The following headline and chart appeared in the June 14, 1994 issue of USA Today newspaper.

Clinton approval rating up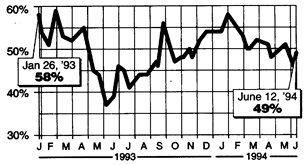 Source: USA TODAY/CNN/Gallup Poll of 756 adults by telephone on June 11-12. Margin of error: ±4 percentage points.

The accompanying story, entitled "With Clinton home, voters lighten up," read in part:
With D-Day observances over and President Clinton back home, voters' attitudes toward the president are settling down a bit. Now that attention is back on the economy, health care and crises in Bosnia and Haiti, a USA Today/CNN/Gallup Poll taken over the weekend [of June 12] shows Clinton's job performance rating inching upward to 49% ... It's an improvement from a poll taken [on June 6] as Clinton was in Europe marking the 50th anniversary of the Allied invasion of Normandy, which showed approval dropping to 46% ...
Write a letter to the editor of USA Today explaining why the assertion "Clinton approval rating up" might be regarded as questionable or misleading. Be concise (editors prefer letters that are brief and to the point) but convincing (give mathematical evidence to support your claims).