Suggestions for Use
Development of Course Design.
Global concept maps developed by an experienced instructor, or a team of instructors, can clarify the essential concepts and their linkages. They also make explicit the connected knowledge of a field, which is implicit among experts in the discipline. Effective instruction can then be designed that contains the structure of the concept maps. Caveat: This use requires a high investment of instructor time for the initial concept map construction.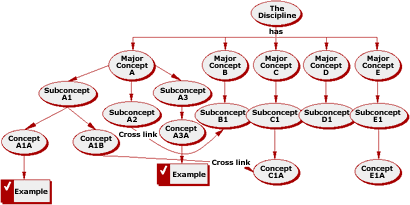 Figure 3: Schema for Using a Concept Map for Developing Course Design
[From Novak and Gowin, 1984]
Click here to see a larger version of this graph.
Instructional Tool.
The instructor can present "expert" concept maps to the whole class to highlight key concepts and connections. These should be more detailed and flow from the global maps executed for the course design. Concept maps can then serve as "advanced organizers" (to preview material) and also for review. An instructor can continuously refer to a concept map in class to show how to "grow" the connections, and to keep the instruction focused. Caveat: At first, students will find concept maps very strange and may even try to memorize them, rather than use them as a thinking tool.
Learning Tool.
Ask students to construct their own concept maps covering a section of the course material from class or the textbook. Most (if not all!) of them will probably never have seen a concept map before, and many have not developed the learning skills needed to construct them. As a result, the instructor will need time (either in class, or perhaps in the lab) to work with groups and individuals. The impact of student-created concept maps is so powerful that it is worth the investment of time!

Step-by-Step Instructions

Introduce a concept that is familiar to all students, such as "car", "chair" or "food."
Have students write down 10 other concepts that they associate with this main concept (i.e. for food, "vegetables", "meat", "cereal", "milk", "steak", "carrots"...).
Ask them to rank the 10 concepts from "most general and inclusive" to "least general and inclusive" or from "most important" to "least important"; this step will require several minutes.
Tell students to write the "most general" or "most important" concept near the top of a large piece of paper (e.g., posterboard or butcher paper are excellent, but regular notebook paper will suffice). Have them enclose this "superordinate concept" in a box or oval. Use pencils instead of pens! (Post-its® are excellent for this step.)
Explain that you want them to connect concepts from their list, one pair at a time, with directional links; and most importantly, to label the linking lines (e.g., Carrots vitamin A (linking word is, "contain") OR meat iron (linking words are, "is a good source of"). Continue this process until all concepts appear on the map.
Give students plenty of time (20-30 minutes). Encourage them to include a lot of branching and many levels of hierarchy. Put special emphasis on cross-linking concepts in one area of the map with those in other areas. Suggest that they may add as many additional concepts as they wish to make their maps unique and personally meaningful. Remind them that the boxes or ovals should contain only one or two words. Emphasize that "neatness doesn't count" and that they may re-draw their maps as often as they wish.
Circulate around the room as students construct their maps. Be supportive but not directive. Remind students that a concept map is an distinctive representation of their understanding, and that individual components on their maps may or may not be scientifically accurate, but there is a large set of ways to organize and represent what they know. Encourage creativity and stress that there are no one "correct" answer.
Select several students to share their maps with the class. You may need to make a transparency to display the maps in large classes. Focus attention on appropriate connections between concepts. Remind students that concept maps may be a very helpful way to study; they can be used to condense many pages of textbook verbiage into a succinct summary of what the author presents.
In the next class, introduce a central concept from your course (e.g., "star", "cell", "energy", "matter") and ask your students to construct a concept map on this topic. Collect the maps and review them, but don't grade them. You may want to suggest ways the maps could be improved.
Return the maps to the students and suggest that they rethink some of their ideas. We have used different colored pencils for each iteration so students may depict and emphasize how their ideas change over time. The same map may be used for several class periods, and students may be encouraged to add to, delete, reorganize or even begin anew whenever they need to do so.
---
Tell me more about this technique: