Analysis
To start, we suggest that you focus primarily on the qualitative aspects of students' concept maps with emphasis on the accuracy or validity of the knowledge students represent. Among the questions you might ask yourself are the following:
Are the most important concepts depicted?
Are the links among concepts scientifically acceptable?
Is there a substantial amount of branching hierarchy and cross-linking?
Do any of the propositions suggest that the student subscribes to significant misconceptions?
How have students' concept maps changed over the course of days or weeks?
As you and your students gain experience with concept mapping, you might consider trying one or more of the quantitative "scoring rubrics" currently available (Novak and Gowin, 1984). In the most well-established scoring scheme, 1 point is given for each correct relationship (i.e., concept-concept linkage); 5 points for each valid level of hierarchy; 10 points for each valid and significant cross-link; and 1 point for each example.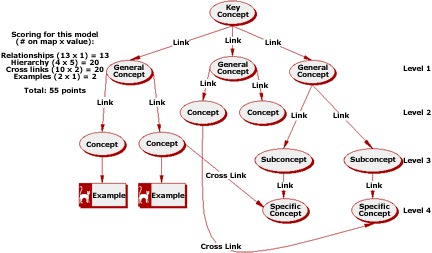 Figure 5: Scoring Concept Maps
[From Novak and Gowin, 1984]
Click here to see a larger version of this graph.

Pros and Cons

Concept maps help students focus on the "big picture", enabling them to devote more of their time to conceptual understanding rather than rote learning
Concept maps force students (and instructors!) to make valid connections among concepts
They provide a low tech (cheap!) vehicle that enables students to represent graphically their knowledge, and to share it with the instructor and other students
They shift the emphasis from inert, static knowledge to contextually-embedded knowledge; from isolated facts to theoretical frameworks of related concepts
In addition to their role as assessment tools, concept maps offer a useful way to help students "learn how to learn"; they also serve as useful vehicles for course development and as graphic organizers before, during and after instruction
However:
Comparisons among students are more difficult because concept maps tend to reveal the idiosyncratic way that students view a scientific explanation, as a result...
Evaluation can become more time-consuming for the instructor, especially in large classes, unless some variation (such as Select & Fill-in) is adopted
If you score maps, you must use a consistent (and tested) scheme
Students who have developed a strong facility for rote learning of verbal knowledge sometimes find concept maps intimidating
Constructing concept maps is a demanding cognitive task that requires training
---
Tell me more about this technique: